Success Story: Numerical analysis and assessment of a conceptual dam proposal
NCC presenting the success story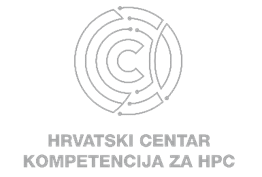 Croatian Competence Centre (HR HPC CC) provides end users from scientific and higher education communities, various industries and public administrations, access to innovative solutions adapted to the level of maturity of national and European High-Performance Computing (HPC) infrastructure. HR HPC CC helps strengthen existing and develop new national competencies for High-Performance Computing (HPC), High-Performance Data Analytics (HPDA) and the area of Artificial Intelligence (AI).
Industrial Organisations Involved:
WKW Felsentunnel GmbH & Co. KG is an SME contractor developing a hydroelectric power plant for the Municipality of Ramsau b. Berchtesgarden. They are a small and agile SME in the engineering field.
Technical/scientific Challenge:
SME partner has been developing a small river dam that should meet energy production requirements so as to be a viable option while also integrating into the surrounding environment with minimal disturbance/changes. NCC's goal in this project was the assessment of the feasibility of such a dam, assessment of potential flooding and overall integration into the environment which entails the development of visual materials. Dam feasibility was determined analytically (by a third party), whereas flooding analyses and visualization were done by the NCC using Computational Fluid Dynamics (CFD).
Solution:
Numerical simulations were based on the current state-of-the-art approach to flooding assessment. An open-source CFD software stack was employed and a customized solver based on the Volume of Fluid methodology was developed to ascertain the possibility and extent of the flooding region in a realistic environment. Terrain and realistic river inflow data were obtained. Based on findings, improvements in the current dam design were suggested in order to ensure safety.
Business impact:
Due to the complexity of the problem, the only viable approach to solve this task is either by using Computational Fluid Dynamics or a similar numerical approach. However, conventional computers lack the processing power to resolve this problem in a reasonable time frame, which is important due to tight project development schedules. By utilizing HPC resources, simulations were completed in a time frame that is several orders of magnitude smaller. Input by the experts from the Academia, findings and suggested solutions incentivized the SME partner to investigate the use of HPC resources for their proprietary code as well as explore future collaborative projects.
Benefits:
Assessment time reduced by several orders of magnitude
Approach allows iterative design changes to resolve safety concerns
SUCCESS STORY # HIGHLIGHTS:
Keywords: Computational Fluid Dynamics, High Performance Computing, Dam, Flooding, Safety, Mechanical engineering, Volume of Fluid
Industry sector: Mechanical engineering, Environment
Technology: HPC
Dam – numerical model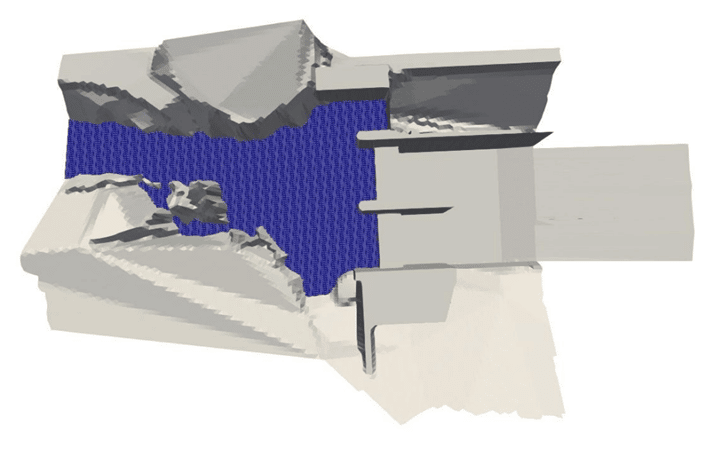 Flooding assessment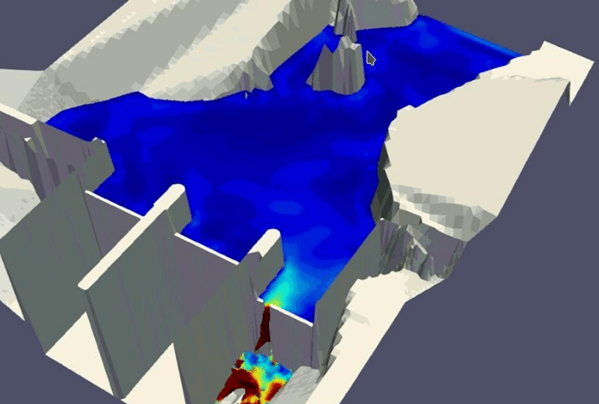 Design / environment integration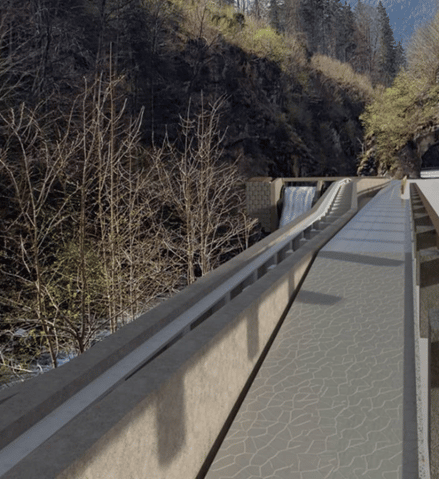 Contact:
Lado Kranjčević lado.kranjcevic@riteh.hr
This project has received funding from the European High-Performance Computing Joint Undertaking (JU) under grant agreement No 951732. The JU receives support from the European Union's Horizon 2020 research and innovation program and Germany, Bulgaria, Austria, Croatia, Cyprus, the Czech Republic, Denmark, Estonia, Finland, Greece, Hungary, Ireland, Italy, Lithuania, Latvia, Poland, Portugal, Romania, Slovenia, Spain, Sweden, the United Kingdom, France, the Netherlands, Belgium, Luxembourg, Slovakia, Norway, Switzerland, Turkey, Republic of North Macedonia, Iceland, Montenegro