NCC Romania
Within the European-funded project "National Competence Centers in the Framework of EuroHPC", the National Institute for Research-Development in Informatics – ICI Bucharest laid the foundations of the Romanian National Competence Center – RoNCC in the field of HPC.
---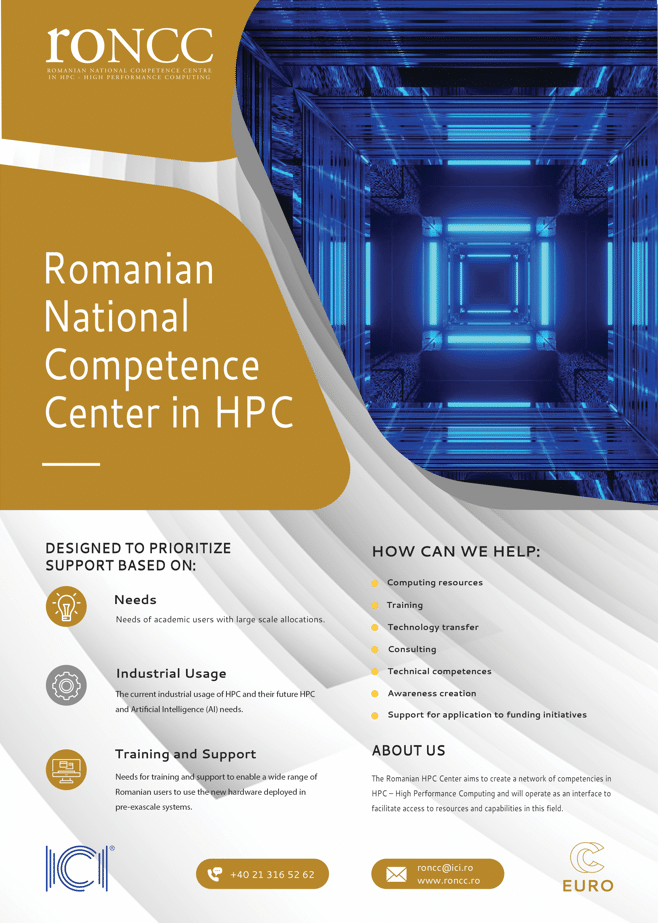 The center aims to create a network of competencies in HPC and operates as an interface to facilitate access to resources and capabilities in this field. In this manner, the Center provides valuable resources for public institutions in Romania, educational institutions, users and providers of IT services and other interested entities.
RoNCC is designed to prioritize support based on:
Needs of academic users with large scale allocations;
The current industrial usage (SMEs and startups) of HPC and their future HPC and Artificial Intelligence (AI) needs;
Needs for training and support to enable a wide range of Romanian users to use the new hardware deployed in pre-exascale systems.
Our services:
Computing resources;
Training
Technology Transfer;
Consulting;
Technical competences;
Awareness creation;
Support for application to funding initiatives.
The vision of RoNCC is to establish a single reference and contact point for academia, industry and public administration. All activities are focused and orchestrated as a single know-how hub, both for academia and industry.
By mapping the national HPC/Big Data/AI technical existing competences with the future needs, RoNCC will establish collaborations between these needs and available competences in the Romanian and European ecosystem.
---