Success Story: Medical Image Processing as a Service
NCC presenting the success story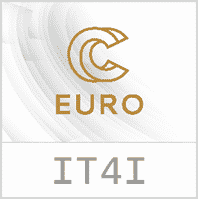 The Czech National Competence Centre (NCC) for High-Performance Computing (HPC) and Data Analysis (HPDA) is represented by IT4Innovations National Supercomputing Center at VSB – Technical University of Ostrava. Its mission is to analyse, implement, and coordinate all necessary activities and offer end users its services to meet their needs: from access to supercomputers and technology consulting to providing training for industry, public administration, and academia.
Industrial Organisations Involved: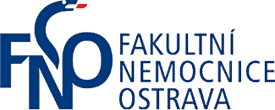 University Hospital Ostrava is a state-funded organisation established by the Ministry of Health of the Czech Republic. The primary purpose of this organisation is to provide health services. Other activities include the development of science and research. The organisation conducts both basic and applied research.
Technical/scientific Challenge:
The main goal of our cooperation with University Hospital Ostrava was to deploy and test a tool providing remote automatic tissue segmentation from patient image data obtained from computed tomography (CT) or magnetic resonance imaging (MRI) on HPC infrastructure at IT4Innovations. The methods used to enable tissue segmentation were based on deep learning (DL). The objectives were (i) to provide a service based on state-of-the-art algorithms for automatic segmentation of the desired tissues as an AI-based annotation service and (ii) to collect the data after the automatic segmentation and validation by medical doctors, and to provide HPC-based training of new models or enhancement of the existing models through fine-tuning.
Business impact:
Analysis of the patient´s image data is used to establish or refine the patient´s diagnosis and is performed by medical doctors.
When detailed data analysis such as image segmentation is required, e.g. to prepare a patient for surgery, the process is lengthy and demands the physician´s attention given that it is often entirely or largely manual. Consequently, there is a high demand for supporting tools that enable the automation of this radiological examination, especially when the quality evolves with each additional case analysed.
Patients and clinicians can benefit from the toolkit since automation provides a higher level of health care.
Solution:
The evaluated concept consists of two main parts. The first one runs at a medical doctor's site in the hospital, and the other one operates at IT4Innovations National Supercomputing Center. The part at the hospital is represented by a frontend that mediates the interaction between the doctor and the data. An open-source 3D Slicer was chosen to provide this functionality, and it facilitates the interconnection to a backend part. The backend part provides the computational power of an HPC cluster and other required features. It enables the training of deep learning models for automatic segmentation and model inference of incoming image data. We have adopted the NVIDIA's Clara Train SDK to create the backend part.
Benefits:
The time of the segmentation process is reduced by automation.
Spared time can be used for the physician´s benefit.
The automated segmentation process can be applied to specific tissues of interest to the physician.
SUCCESS STORY # HIGHLIGHTS:
Industry sector: Health, Surgery
Technology: Information Technology (IT), Deep Learning (DL), HPC
3D Slicer working environment with possible output obtained by automatic segmentation on HPC cluster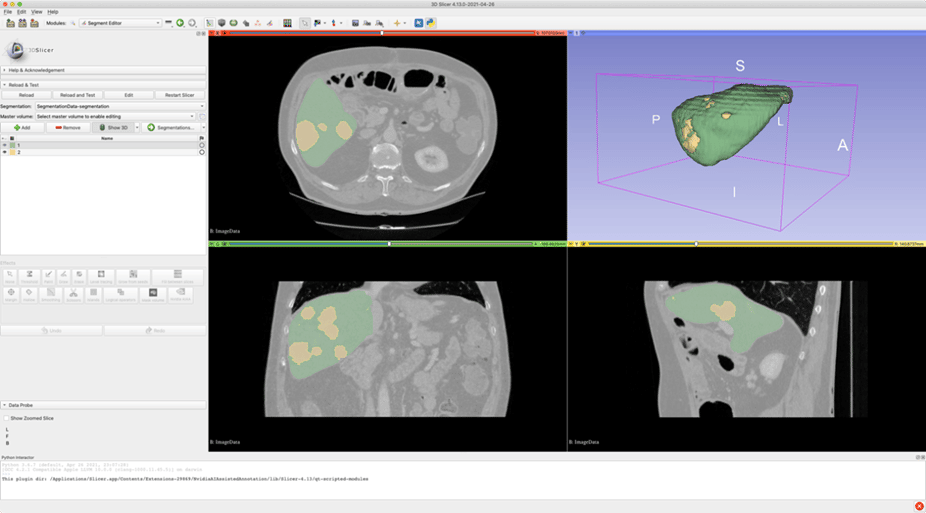 The main concept of the tool for medical image processing and analysis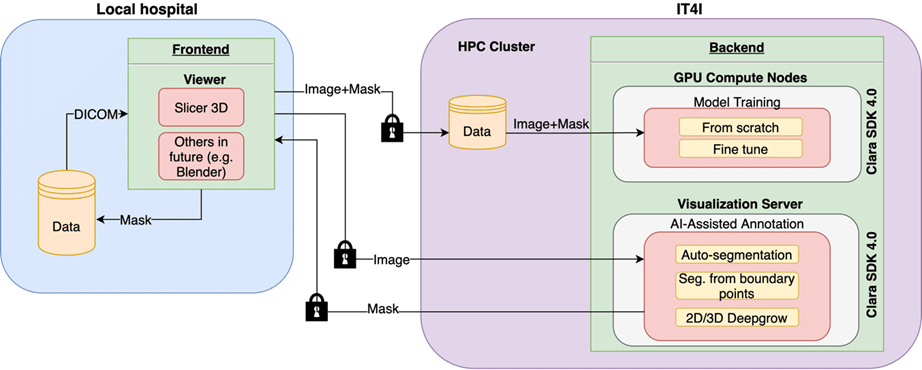 Contact:
Tomas Karasek (tomas.karasek@vsb.cz)

This project has received funding from the European High-Performance Computing Joint Undertaking (JU) under grant agreement No 951732. The JU receives support from the European Union's Horizon 2020 research and innovation program and Germany, Bulgaria, Austria, Croatia, Cyprus, the Czech Republic, Denmark, Estonia, Finland, Greece, Hungary, Ireland, Italy, Lithuania, Latvia, Poland, Portugal, Romania, Slovenia, Spain, Sweden, the United Kingdom, France, the Netherlands, Belgium, Luxembourg, Slovakia, Norway, Switzerland, Turkey, Republic of North Macedonia, Iceland, Montenegro