With a unique supercomputer demo in action and membership in the V World Congress of Latvian Scientists, the Open HPC week is successfully closed. This was already the third year EuroCC Latvia organized Open HPC Week.
The Latvian supercomputing or High-Performance Computing (HPC) Competence Centre organized three different events during Open HPC week to tell other target groups more broadly about the benefits of a supercomputer and when and how to best use a supercomputer.
During the events, it was possible to get acquainted with various stories of supercomputer experience, such as how a supercomputer helps to increase energy efficiency, predict erosion from rivers and seas, model floods, etc. There also had the opportunity to see in person what the RTU supercomputer and other supercomputers on the academic network of Latvia look like.
Informative seminar for colleagues from EDIH on June 21
On June 21, the Latvian HPC Competence Centre "SuperS" told European Digital Innovation Hubs (EDIH) representatives about supercomputers or HPC clusters and infrastructure.
To be able to provide support to digital transformation-focused organizations more effectively, EDIH experts were presented in the seminar with the principles and wide range of applications of supercomputers, such as how to optimize internal processes in businesses, introduce new systems or develop new products via a supercomputer.
On the morning of June 27, SME's met for a business breakfast and became familiar with HPC options
How do I increase the competitiveness of businesses in the domestic and international markets? How do I reduce costs and increase efficiency? For business breakfast, during Open HPC week, everyone could get to know more broadly the capabilities of a supercomputer and see practically in life how part of a supercomputer works. Demonstrations of one small node of the HPC cluster in action took place during the events. There also was a possibility to hear Ltd's "CastPrint" success story.
On the afternoon of 27 June – the public administration and academic sector
On a briefing afternoon, anyone could learn how using a supercomputer could make it easier to work while working in the public sector, what opportunities a supercomputer offers, and how to get started on it virtually.
On June 28, we took part in the V World Congress of Latvian Scientists
During the World Congress of Latvian Scientists, the RTU HPC Centre, including representatives of the "SuperS" HPC Competence Centre, presented examples of HPC solutions.
The demo-case developed in the EuroCC project you can read here>>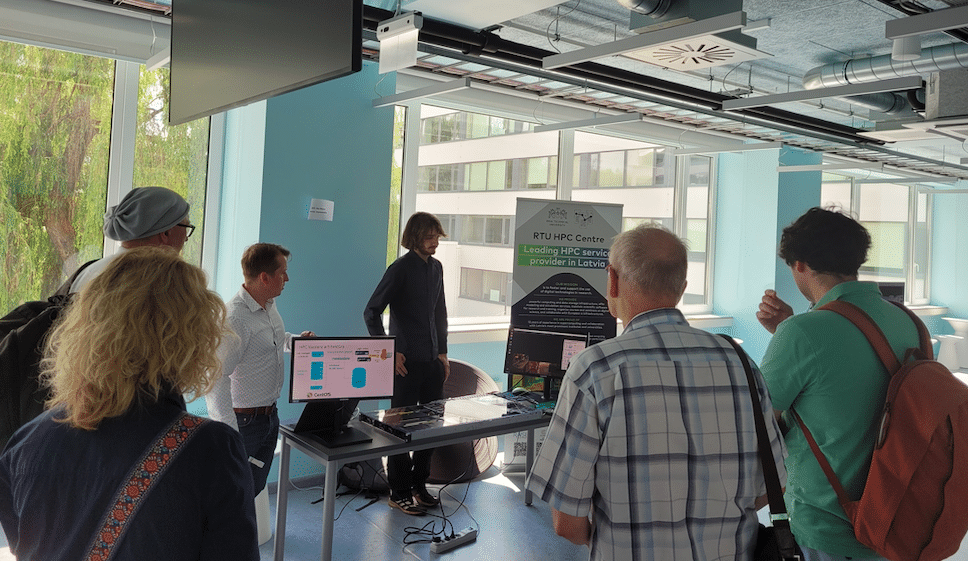 Kintija Bulava
https://eurocc-latvia.lv