Within the collaboration between EuroCC NCC Lithuania and ENCCS, as a mentoring activity partially financed by the Castiel project and partially by the EuroCC, the HPC Center director of Lithuania, Mindaugas Mačernis, visited ENCCS between 25- 27th of January 2022 to get acquainted with the Swedish HPC ecosystem.
ENCCS director Lilit Axner introduced Mindaugas Mačernis to the ENCCS team and together, they had a full day of interesting discussions.
Mindaugas Mačernis got to learn how ENCCS successfully managed to build up the centre within one and half year and successfully gathered a large number of users interested in services provided by ENCCS. Lilit Axner discussed the activities and best practices that ENCCS had so far with its industrial and public sector users as well as the importance of being agile and user-oriented when providing HPC and AI services.
The ENCCS training coordinator, Thor Wikfeldt, explained how ENCCS develops the training material and how it tunes the training portfolio towards the needs of the Swedish users. They also talked about the periodic surveys ENCCS carries out with its users. Similarly, ENCCS dissemination coordinator, Apostolos Vasileiadis, discussed the efficient outreach techniques that ENCCS uses to reach out to its users.
On the second day, Mindaugas Mačernis visited PDC HPC center at KTH where PDC director Dirk Pleiter together with two of the PDC staff introduced PDC activities to the guest and described PDC's engagement with both local users as well as their activities within several international projects. Mindaugas Mačernis was also welcomed to visit the PDC computer room to see the new Swedish general-purpose system Dardel which is an HPE Cray EX supercomputer.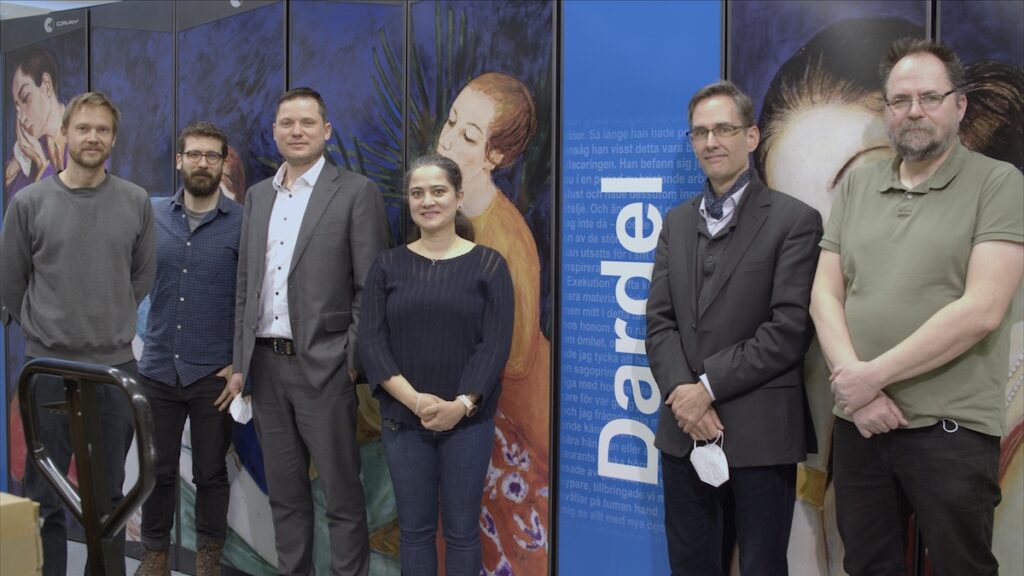 On the last day of his visit to Sweden, Mindaugas Mačernis and Lilit Axner visited the NSC HPC center at LiU. There the NSC director Björn Alling and the technical director Niclas Andersson presented NSC HPC services and NSC staff, discussed the details of how the everyday work is organized at NSC.
After the presentations, the group visited the NSC computer rooms to see the WASP AI system Berzelius and SNIC system Tetralith hosted at NSC.